LISTEN: The Showtime Podcast
LISTEN: The Showtime Podcast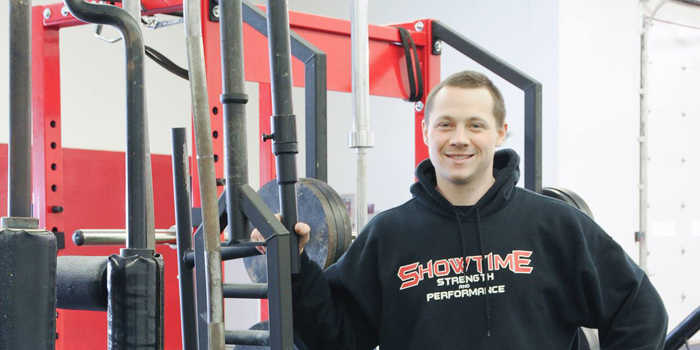 Photo Ken Snow
There aren't very many people that own a business in their early 20s, let alone two. But, then again, most people aren't Nick Showman.
I met Nick for the first time back in 2009 when he interned from me at Denison University. he was young and inexperienced but had a passion for developing athletes and making a difference. He was open minded and had an outstanding grasp not only in sports performance but other strength sports such as powerlifting, bodybuilding, and strongman.
Before opening Showtime Strength and Performance, Nick has already acquired the Natural Ohio Bodybuilding Association (formerly known as the ONBF... funny story there). Showman has learned first-hand the unpleasantries of LLCs, real-estate, and the culture of youth athletics. Nonetheless, no matter which obstacle Nick has had to face, he has done so head-on.
Knowing Nick personally and seeing first-hand the impact he has on the athletes and clients he works with, one thing is certain. Nick Showman will continue to be successful in coaching, business, and in life for one simple fact. He ensures it is ALWAYS about the success of the people he trains.
Topics Covered in this Podcast
Owning two business at 25 years old. How Nick got to wear he is now.
Lessons learned from owning a facility
he most important factors in opening a facility
Designing the facility. What goes where
Initial assessments of athletes
Where we are filling in sports
What to look for with assessment tools. From landing to squatting.
Year long In-Season training
Implementing Circuit training to address weak points
What are the most important movements fro all athletes in all sports.
Communication strategies with parents, sport coaches, and strength coaches
Marketing through education.
Hosting events for fundraising
The biggest challenges with youth athletes
Exercises to avoid
Olympic Lifts with athletes
Keeping Speed training simple and adjusting volume
Drills for success on the field or court
Creating a culture for success
How to reach Nick Showman
Listen to the podcast at EliteFTS.